DuplexPackSlip: What if I have too many line items?
In this video, we discuss solving the business challenge of having more line items than can fit on the back of a DuplexPackSlip label or form.
Pack list continued…
A common method of implementing a DuplexPackSlip process with maximum line items that exceed the space of the label is to output a message on the front of subsequent labels with the packing slip continuing on the back.
Project: 4 x 8 DuplexPackSlip Media
Right click the Project and select Properties > Printer Control. The media option: "4 x 8 Duplex Pack Slip" appropriately handles the necessary inversion of the output for the DuplexPackSlip label and it accounts for space above and below the peel out. Some adjustment may be necessary depending on the tear strip, but using this option will place 4 x 6 output appropriately.

Form 1
The primary project should have a form set to paper side FRONT and a rule calling output from a blank 4 x 6 project that renders the shipping label. A second form should be added with paper side set to NEXT. This setting is accessed by right-clicking the form and selecting Properties > General.

Form 2
This second form will have a Document Template calling a 4 x 6 project containing the packing list. If using "Add Pages from a Project" to call the pack slip project, make sure "Use original page numbers" is checked.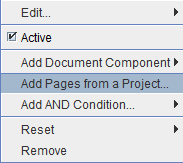 Add a Box under the Document Template with paragraphs containing the "Pack list continued…" message. The Box should have the following attributes:
Within document: NO
Absolute positioning: YES
Normal box: NO
Add additional pages after each page: YES
Page: nth through next to last page: 1